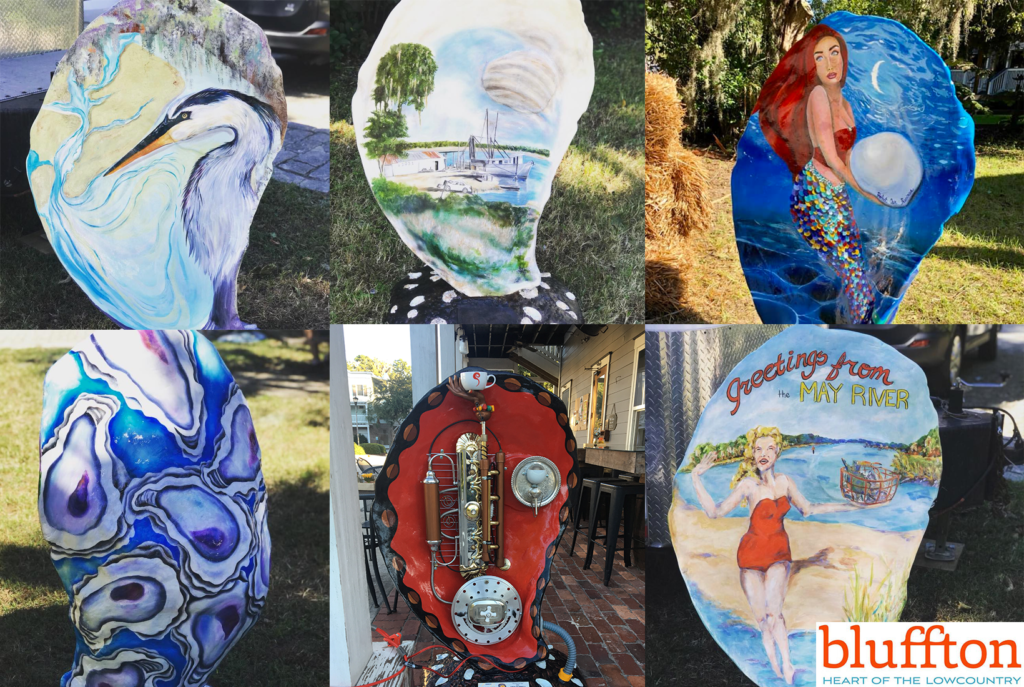 Oysters have been part of the history and culture of the Lowcountry for thousands of years.  Thanks to the Lowcountry Oyster Trail they are about to achieve a whole new prominence in a unique and interactive way.
During October some 21 giant oyster shells will be placed throughout Bluffton to create a Shell Art Trail.  Each four-foot tall fiberglass resin shell, sponsored by a local business or organization and decorated by a regional artist, features one of four themes:  Bluffton history and culture, oysters and their habitat, our unique marine ecosystem and ecology, and Lowcountry outdoor activity and adventure. The trail was kicked off on October 14th, where a special pop-up art park featuring 13 of the shells appeared during the Art Walk.
Larry Hughes, founder and president of the Lowcountry Oyster Trail, said the whole purpose of creating the Shell Art Trail is "for the giant oyster shells to bring giant smiles to the faces of visitors and residents alike for the next 12 months."
The Shell Art Trail will help promote the importance of the Lowcountry marine ecosystem and draw attention to marine restoration efforts throughout our region.  Each sculpture gives people the opportunity to embark on a public art trail unlike anything else in the region … while learning more about one of the Lowcountry's most treasured resources.
To experience the Shell Art Trail, "Trailblazers" can download a digital map and print out a Shell Art Trail Passbook leading them to the 21 sculpture locations throughout Bluffton.  A special plaque on each sculpture will provide people with a unique "oyster fact" in answer to questions in the guide. People are also encouraged to take some "Shell-fies" along the way and post them to their social media accounts, tagging @LowcountryOysterTrail, and using #LowCountryOysterTrail #heARTofBluffton #SeeShellsinBluffton for the opportunity to win some special prizes while completing the trail.
For more information about the Shell Art Trail, including a listing of participating artists and sculpture locations and sponsors, visit https://lowcountryoystertrail.org/shell-art-trail/.