Nestled on the docks of the Port Royal Sound, Hudson's Seafood House on the Dock is the perfect spot to bring your family and friends for a true Lowcountry dining experience. Hudson's brings local, fresh seafood straight from their docks to your table by employing the largest fishing fleets on Hilton Head Island. If you are lucky, you'll see a Hudson's shrimp boat unload its catch; watch the sorting process as the shrimp make their way to the restaurant tables.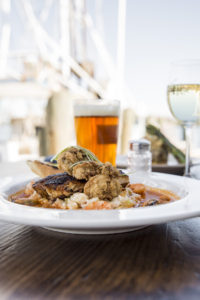 There are just two remaining commercial shrimping operations on Hilton Head, and one of them will use Hudson's dock for free, in exchange for the restaurant getting first pick of the freshest shrimp in the area. You will even see the chef head out to the docks each time the boat returns, to check up on the daily catch. They grow and harvest their own oysters, and even have a state-of-the-art seawater system to shed out soft shell crabs in the spring – ensuring they are at the highest quality & serving up the best seafood available.
So, while you're in Hilton Head, do as the locals do and head to Hudson's on the Dock for some of the freshest seafood in the area. To make sure you have the best experience, we have highlighted our favorite menu items to order while you sit back & enjoy the views of the Port Royal Sound against the setting Lowcountry sun. The view from Hudson's is almost as good as their food.
One rule though – You MUST leave room for dessert!
What to order:
Be sure to ask about their "best of today's fresh catch," as their specials are pretty incredible, and come straight off the boat to your table.
Anything with shrimp in it. Hudson's extremely fresh shrimp are served up steamed, broiled, fried or stuffed. We think any style is perfection, but try their New Orleans style BBQ Shrimp, made with butter, cream, Cajun spices and Worcestershire sauce – it is sinfully delicious! For a simple shrimp dish, you can never go wrong with their shrimp cocktail, where you can really taste the true freshness of this daily catch.
Their char-grilled oysters, are a MUST TRY! This sinfully delicious, char-grilled version is placed directly on the grill in its shell & cooked in its own juices, then topped with Parmesan cheese, butter, garlic and flash broiled. They also have fantastic steamed, fried & raw oysters.
Their Fried Green Tomato Plate is a true work of art, topped with onion & bacon jam, tomato chutney, goat cheese, arugula and a balsamic glaze, this dish is one of the reasons so many of us keep coming back for more!
Sure, hushpuppies are a southern staple, but no one does it better than Hudson's. Shaped more like tots than spheres, they are tender with a crunchy crust topped with sugar for added sweetness. Why are these hushpuppies so delicious? Most restaurants pre-make theirs, while Hudson's cooks every single batch to order.
Can't decide what to order? You can't go wrong with their "Can't Decide Sampler" (for two), oysters hudson, oysters rockefeller, stuffed mushrooms, mini crab cakes and blackened scallops to get the most out of your Hudson's experience.
Hudson's, She Crab Soup is a tradition at Hudson's & probably the best soup you will ever taste. This thick & extremely flavorful soup is topped with a bit of sherry to round out the taste. You cannot go wrong with their Seafood Gumbo either, a Cajun style gumbo made with dark roux and loaded with the freshest of seafood, sausage and seasonal vegetables.
We told you to leave room for dessert! Hudson's is known not only for their fresh catches, but for their decadent desserts. Our favorite desserts include their Key Lime Pie, Mud Pie "Enough for Two" (if you like to share) and their signature, not to be missed, Bessie's Peanut Butter Pie.
This island institution seats over 345 people and serves the islands finest seafood to more than 1,000 guests on a typical summer night. Next time you make your way to Hilton Head Island, do as the locals do and sit at the tables topped with blue and white checkered cloths and devour buckets of fresh seafood & take in the beautiful views of the Port Royal Sound for a true Lowcountry experience.
---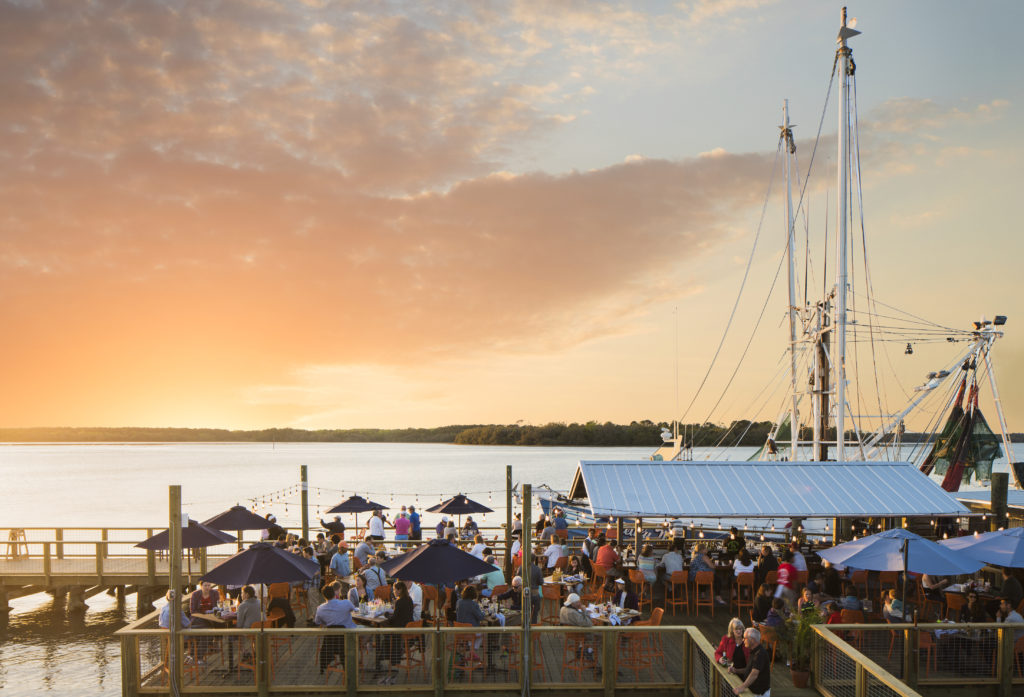 Location: 1 Hudson Rd, Hilton Head Island, SC 29926
Phone: 843-681-2772
Website: hudsonsonthedocks.com
Hours of Operation: OPEN DAILY; Lunch from 11 am – 4 pm, Dinner from 5 pm – until, Brunch on Sundays from 10 am – 4 pm and Happy Hour from 4 pm – 6 pm.